Our Team Of Professionals
Our dedicated employees, including some of New England's finest European stonemasons, continue to produce superior quality landscape projects on Cape Cod, Nantucket, Martha's Vineyard, as well as, in Boston/Metro-West and Rhode Island.
Francisco Tavares Inc., would like to extend its best wishes to Gary Tavares, who retired on January 1, 2020. As most of you know this has been a family business since the late Francisco Tavares established the firm in 1951. Gary spent his entire career dedicated to the company, the community, and the Landscape Construction industry well before purchasing the company from his parents in 1987. He then spent the last 33 years leading the landscape industry with his company's hands on approach and by always maintaining the highest standards and superior quality.
Through Gary's skillful guidance Francisco Tavares Inc., has been fortunate to be blessed with dedicated long term employees in which most of you have already been working with over the years. Three of which will now be carrying on the Torch of Excellence for Francisco Tavares Inc.
Jonathan Searles
Owner/CEO/Project Manager
Jonathan Searles, CEO and President. Jon started his career within the firm 20 years ago at the age of 15. Jon worked very hard alongside Gary for many years learning every aspect of the company. Jon's hard work and dedication to our clients and the firm will ensure that you continue to receive the top notch quality and service that you have come to expect from Francisco Tavares, Inc.
Diane Seaver
Owner/Office Manager and Bookkeeper
Diane Seaver, Office Manager/Controller, worked for Gary and the company since 2007 wearing most hats within the office at one time or another. Diane will continue her daily overseeing off all phases of office operations as well as manage the company finances
Kyle Tavares
Owner
Kyle Tavares, Gary's son and now a third generation owner, has been learning the business since he was just a little boy. Having Gary as his Dad, Kyle has learned his way around the business and equipment since graduating from college in 2017. Kyle will continue to expand his knowledge in all aspects of the company working side by side with Jon to assist in carrying on the family legacy.
Seth French
Lead Estimator & Buyer
Seth used his bachelor's degree in architecture while working as an estimator in the field of commercial architectural woodworking in Maine until 2011. Shortly after he crossed over into the landscaping world as an assistant estimator for Francisco Tavares, Inc. When not crunching numbers, he's hanging out with his wife and two boys on the beach.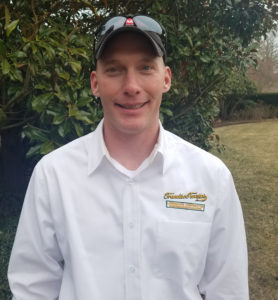 Joshua Ellis
Maintenance Division Manager
Joshua Ellis – Maintenance Division Manager brings with him a vast knowledge in the horticultural industry to the Francisco Tavares table. Joshua began his career in the business in 2001, where he began learning and perfecting a wide range of landscape skills with his countless hours of hands-on work.
These first years truly instilled a passion within him and a yearning to continue his education and knowledge of the field. It was at that time that Josh knew that his roots were firmly planted in the soil.
Josh went from simple lawn maintenance to overseeing, designing, and the caretaking of beautiful estates all over. Along with his years of hands-on experience in landscaping, lawn care, and turf management, Josh prides himself on customer service and his meticulous attention to clients' individual needs. When not at work, Josh enjoys spending time with his loving family, working on antique trucks, and watching sports.
Nancy Szablinski
Administrative Assistant
Nancy happily joined the Francisco Tavares, Inc. team in November of 2021.  She enjoys living on Cape Cod and brings with her +25 years of Administrative Assistant Support to share with our team and its clients. When not at the office, she enjoys all that Cape Cod has to offer along with sharing her time with family and friends.